David Goshert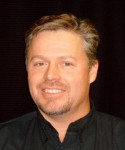 Email
-
Owner / Agent
- (Direct: 574-527-2696)
David and his wife Linda live in Winona Lake, IN.
They attend Mission Point Community Church, also in Winona Lake & serve in (Kidzpoint) children's ministry
Together they have 5 children & 1 grandchild. David enjoys traveling with his wife & family, Hunting with his son, Fishing with his father & his son, & Boating.
David was involved in farming from 1986 thru 1993 then he began his Insurance career in 1995.
In 2002, David Co-Founded Goshert Insurance LLC along with his father, brother & uncle. With a focus on offering Crop Insurance & superior service. After 18 years, David is still an active Owner & Agent today.
David is proud Goshert Insurance agency has grown from its original Warsaw base of four family members to 18 agents & 11 staff members, servicing client's in 6 states, providing all types of insurance for their client's needs, while maintaining superior service.